Census 2020
Do your part, be counted in the 2020 Census
CENSUS 2020 IS HERE! WHAT IS THE CENSUS AND WHY DOES IT MATTER?
The Census is an important tool used to count each and every U.S. resident. Why? It is used to determine and inform:
Where government funding will be spent
The allocation of political representation and districts
Business and economic decisions
The amount of funding for community-based organizations and services
With just a 5% undercount in 2020, Montgomery County could lose $72,336,780 annually in funding for schools, infrastructure, and other state and federally funded programs! Check out the County's story map for more information about the Census, how and when you will receive your form, and how it impacts Montgomery County residents.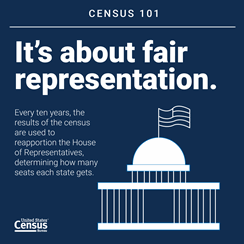 HOW CAN YOU HELP?
Steps you can take to make sure Montgomery County is not undercounted in Census 2020:
Educate yourself at https://2020census.gov/en.html. Speak Spanish? Visit https://2020census.gov/es.html. Materials are also available in 12 different languages here. Select the language, type of material and focus area from the drop-down menu. Here is a link to the 59 Language Guides for the telephone response center, if your language is not available in print.
Spread the word to your family, friends, and community! Share our social media posts about the Census or create your own using our hashtag #MontcoPACounts!
JOIN US! Volunteer with the Montgomery County Complete Count Committee (CCC)! We need you to help us with strategic outreach to unique populations and historically undercounted areas and groups so they don't lose funding! Training is provided. Learn more here.
Work for the Census! The Census is recruiting thousands of people in various positions to assist with the 2020 Census count. Jobs pay up to $27 per hour with flexible hours and weekly pay. Find more information and apply here.
Complete your Census form online, on paper via mail, on the phone, or with a Census taker. There are instructions in 60 different languages on how to fill out the forms.