Police Department History
Springfield Township organized its first police force in 1903 with the appointment of two patrolmen. Originally known as "The Night Watch and Police Force," Springfield's first crime fighters were on duty seven days a week from 4p.m. until midnight. However, from 1903 to 1908 the police were on duty only between the months of May and September.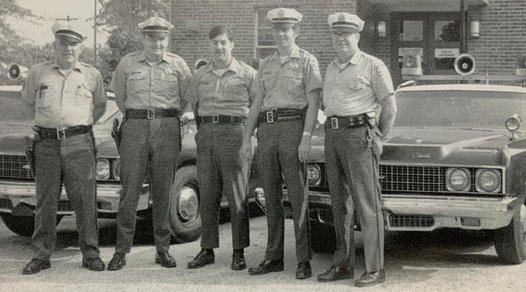 Today the Springfield Township Police Department includes twenty-nine sworn officers providing safe streets and secure neighborhoods for our residents. The Department maintains an aggressive crime protection and detection strategy and a no-nonsense traffic safety program to achieve its goals. This approach, in partnership with our active civilian town watch group, has resulted in an extremely low crime and vehicle accident rate.
Pictured: 1973 Springfield Township Police Department Squad (from left to right) Aubry Williams (sergeant), Raymond Potter (officer), Raymond McManhon (dispatcher), Jack Thompson (officer), and Lloyd Clemmer (safety officer).