About Springfield
Springfield Township is a community that seeks to create, maintain and improve the quality of life for its residents.
Springfield Township is a 6.16 square mile suburban community located along the Northwest border of the City of Philadelphia. Situated in the Southeastern part of Montgomery County, Springfield is surrounded by the Townships of Abington, Cheltenham, Upper Dublin and Whitemarsh, as well as the Chestnut Hill section of Philadelphia.
According to the 2010 United States Decennial Census, Springfield Township maintains a population of 19,418 persons among 7,821 households. The majority of Springfield residents are employed in the City of Philadelphia or in neighboring suburban municipalities.
The primary commercial areas are located along Bethlehem Pike in Erdenheim and Flourtown and smaller industrial pockets in Oreland and Wyndmoor. The majority of the community however is developed with single-family detached dwellings constructed during the 1940's, 50's and 60's.
Springfield Township was incorporated as a First Class Township in 1901 and is further organized under the council-manager form of government. The council-manager form of government seeks to achieve the value of representation through the elected Board of Commissioners and the value of efficiency through the appointment of a professional municipal manager. The center of power in the council-manager plan is the elected Board of Commissioners, Springfield's governing body who, in turn, appoints a manager to administer the affairs of the government and supervise the service departments and agencies.
Springfield Township provides a full range of municipal services including police protection, refuse and recycling collection, highway maintenance, recreational activities, programs and park areas, economic development initiatives, zoning and codes enforcement and building inspection.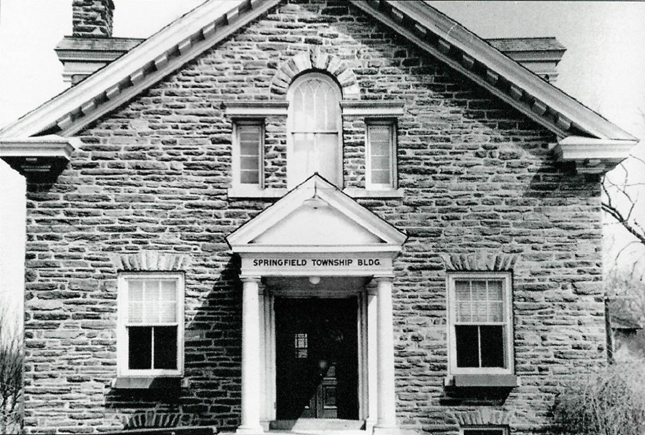 Springfield Township Administration Building, 1907. Photo courtesy of the Springfield Township Historical Society