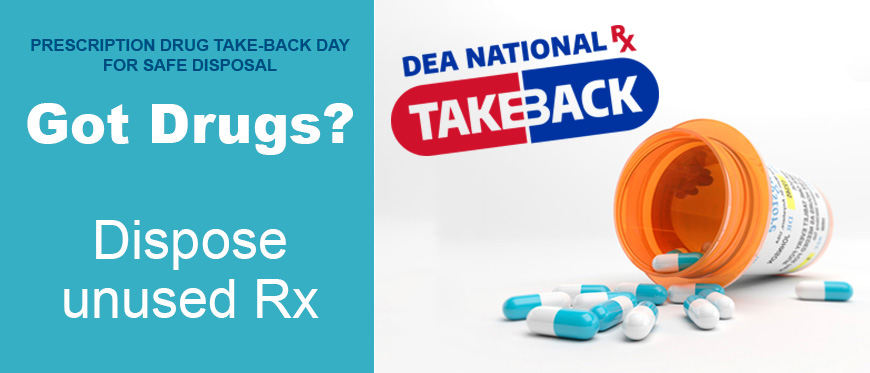 Apr 23, 2021
General News
It's that time of year again, so clear out the cabinets and get rid of your unused or expired medications for safe disposal. April 24th is Take-Back Day from 10am to 2pm at the Springfield Township Police Department. This prescription drug disposal program is run through Montgomery County, and this year's theme is "Return of the Medi"!
Take-Back Day in Montgomery County—which coincides with the DEA's nationwide Take-Back Day—is a chance for residents to clean out their medicine cabinets of unwanted, unused and expired prescription and over-the-counter (OTC) medications and dispose of them easily in a safe, environmentally friendly way. 
"A key way to make your home safer is to get rid of unwanted medications," says District Attorney Kevin Steele. "But we don't want residents to flush the meds or put them out in the trash—both are unsafe ways to dispose of prescription and over-the-counter medications. Just drop them off at police departments across Montgomery County—typically, most participate—and police officers and Montgomery County detectives will make sure that they are properly disposed of in an environmentally safe way." 
Accepted during Drug Take-Back Day (and throughout the year at permanent MedReturn boxes) are prescription and over-the-counter tablets and capsules, inhalers, creams, ointments, nasal sprays, pet medicines and vaping products. Not accepted are needles and intravenous/injectable solutions. Please see the flyer below, or call the non-emergency police line at 215-836-1601 for more information. 
---
Want to receive Township news and alert notifications?
Be sure to subscribe to your favorite Township notification categories by registering on the Springfield Township website (www.springfieldmontco.org)! It only takes a few minutes and is incredibly easy. Check out our video tutorial on how to sign up today.