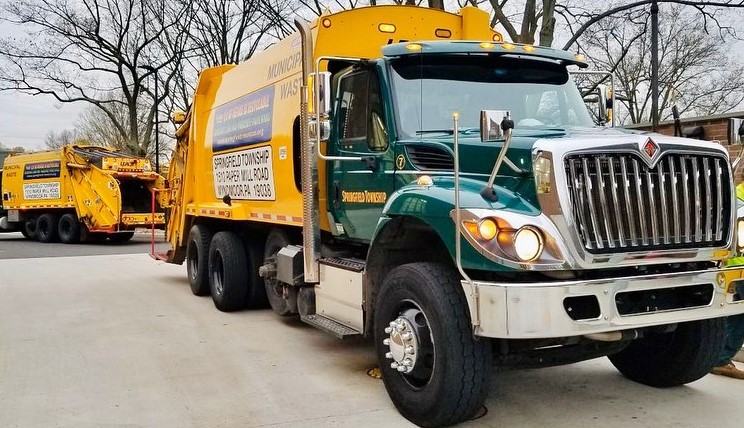 Sep 10, 2021
General News
The Township has noticed an uptick in the number of residents moving out or cleaning out their house and inundating our trash collection crews during their routes. Our crews make every effort to help residents during what can be a chaotic time, however, due to the overwhelming amount of trash, would like to remind residents of important trash regulations. 
Trash and Recycling Regulations
Our Public Works Department would like to remind residents that trash collection is limited to residential, weekly household trash and recycling. Residents who have excess trash, such as from moving or cleaning out their house, must contact a dumpster service or private hauler. Disposing of a piece of furniture here or there can be accommodated, however larger than this must be approved by the Township and/or disposed of through a private hauler. In addition to this, weekly household trash regulations are as follows: 
Acceptable for collection: Garbage (when drained and wrapped), rags, metal, ashes, crockery, grass, latex paint after drying in can, carpeting (must be securely tied so as not to exceed 3 feet in length, nor 25 lbs. in weight), and large bulky items such as furniture and bedding. Household refuse must be placed in watertight containers not to exceed 32 gallons capacity and 50 lbs. in weight.  Large cans with metal lifting bars and/or in excess of 32 gallon capacity will not be collected due to risk of injury.
Not acceptable for collection:
NO Appliances such as televisions, refrigerators, freezers, hot water tanks, ranges, washers, dryers, etc., computers, monitors and other electronics, lawn mowers, auto parts (including tires), and items containing gasoline or oil. 
NO Loose Hypodermic Syringes nor other sharp objects may be put out for refuse. Syringes (needles) must be placed in the American Medical Association's approved protected containers for proper disposal to minimize injury to personnel. For more information on how to dispose of sharps, click here. 
NO Business Trash. 
NO Construction Material. All materials resulting from the repair, excavation, construction or demolition of buildings or structures shall be removed by, and at the expense of, the owner of the property or the contractor doing the work.
The following hazardous materials are not acceptable for collection by the Township: pesticides, herbicides, automotive oils, drain and oven cleaners, spot removers, dry cleaning fluid, rug cleaners, dyes, lighter fluids, photographic chemicals, concrete and asphalt sealers, swimming pool chemicals, oil based paint, paint thinner, turpentine, paint remover, furniture strippers and furniture refinishing products. Montgomery County sponsors a Household Hazardous Waste Collection Program to safely dispose of these items. For more information about the Household Hazardous Waste Program, please call 610-278-3618 or visit www.MontcoPARecycles.org. 
For recycling regulations, visit our Recycling page here. If you have questions regarding trash, recycling, or leaf waste collection, or dumpster permits, please call the Township at 215-836-7600.